to present at conferences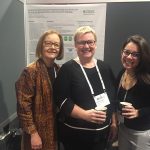 Doctoral student Charlene Knudsen traveled to Gothenberg Sweden to present her poster at the IAGG European Regional Congress in 2019. Her poster focused on enhancing person-environment fit by changing how integrated community-based health and social care services for persons with dementia are designed and implemented. She found her first international conference exciting!
---
to connect with international scholars
Doctoral student Andrew Magnaye traveled to Toronto in November 2018 to discuss migration and care with researchers from the UK Sustainable Care programme and participate in the International Forum on Care and Caregiving. Check out his blog post about his experience here: http://circle.group.shef.ac.uk/2018/12/20/sc-toronto-visit-a-magnaye/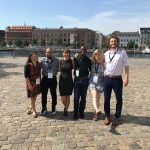 The spring of 2019 saw Andrew go on an international exchange to the UK with the Sustainable Care: Connecting People and Systems programme to further develop his doctoral research on  caring beyond borders and transnational care. Andrew received financial support from a Mitacs Global Link research award, the World Universities Network (WUN),  and AGE-WELL NCE Access funds to make this international exchange happen. While in Sheffield UK, Andrew also attended the Debating the Future of Work Conference organized by the International Labour Organization and the University of Sheffield Management School's Centre for Decent Work. He also had the opportunity to participate in a WUN workshop with international partners from the UK, Canada, Ireland, Ghana, Poland and Australia to develop innovative project ideas around the shifting migration of care. The exchange was capped off by a trip to Copenhagen Denmark, where Andrew attended the Transforming Care conference along with other doctoral students from the Sustainable Care research programme. The focus of the conference was on Changing Priorities – The Making of Care Policies and Practices. This exchange offered numerous opportunities for Andrew to build his own international network of next generation social gerontology scholars.
---
The Department of Human Ecology offers graduate degrees in Family Ecology and Practice. Students come from a variety of academic backgrounds, and upon graduation, have taken employment in a wide range of careers in social service programs, government policies, and research and education.
Graduate Degree Programs
The Degree of PhD in Human Ecology
The Degree of MSc in Family Ecology & Practice
Visit Human Ecology to apply for graduate studies.