Announcements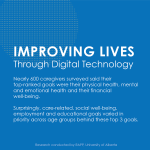 Caregivers are important every day, especially during this unprecedented pandemic. On National Carers Day, April 7, we wish to say a huge thank you to the nearly 600 caregivers in Canada who participated in our Enhancing Caregiver Well-being survey. Your insights were invaluable.  In partnership with AGE-WELL NCE, Huddol, and Teva, we've created an infographic that highlights findings from the survey about caregivers' own goals and their technology use.
---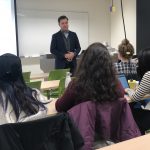 MP for Edmonton Riverbend, Matt Jeneroux, spoke with Human Ecology 300 undergraduate students about the role of research in the policymaking process. Mr Jeneroux was previously an Alberta MLA to whom Dr. Fast provided some assistance a few years ago in making a case for his private member's bill (203) to introduce a Compassionate Care Leave for employees working in provincially regulated industries/occupations. It passed with all party support, a rare thing for a private member's bill. He has since moved on to federal politics, was first elected as MP (Conservative) in 2015, and currently serves as Shadow Minister of Infrastructure, Communities & Urban Affairs.
---
Young caregivers (age 15-19 years) in Canada infographic released for International Day of the Older Person (Oct 1). Did you know that nearly half of young caregivers in Canada care for their grandparents? We appreciate the feedback provided by members of the Young Caregivers Association in creating this infographic.
Stories about young caregivers in Canada whose health, social development, education and job prospects are challenged appeared in several news outlets: CBC news, Folio, Edmonton Journal, Edmonton Sun, Calgary Sun, and Calgary Herald.
---
Using technology to support caregivers of older people with dementia was just published in The Conversation, academic rigour with journalistic flair. Check it out!
---
Towards sustainable family care: Using goals to re-frame the user-centred design of technologies to support carers was just published online in the International Journal of Care and Caring as a Debates & Issues piece!
---
Working with Vanier Institute of the Family, we've recapped our recent research that moves beyond "snapshots" to "lifetimes" of family care. We've theorized lifetimes of family care (see IJCC article link below) and now empirically created 5 different patterns of family care across the life course based on analyzing the care histories of 3,299 adults 65+ from Statistics Canada's 2012 General Social Survey.
---
RAPP collaborated with Caregivers Alberta to raise awareness about family caregivers in Alberta for Caregivers Week, May 5-11, 2019. We co-created with provincial advocacy and government stakeholders two infographics: one on the economic costs and contributions of caregivers in Alberta; a second on the impact of caregiving on their well-being.
We congratulate Caregivers Alberta on receiving the 2019 Gold Laurel Award for their COMPASS for the Caregiver program. The Laurel Awards were established to honour non-profit organizations in the greater Edmonton area and Drayton Valley that further their objectives through exceptional creativity and innovation. On the 25th anniversary of the Laurel Awards, Caregivers Alberta was honoured to take home the top prize, which included a $5000 honorarium.
---
Our paper conceptualizing Life course trajectories of family care was named Editors Choice in the International Journal of Care and Caring 2019 – check out the Open Access article at https://www.ingentaconnect.com/content/tpp/ijcc/pre-prints/content-ppijccd1900061r1# 
The article social consequences of family care of adults: a scoping review co-authored by Norah Keating and Jacquie Eales was one of the top 5 published articles in 2017 and selected for the first Editors' Choice collection in the International Journal of Care and Caring,  volume 1 (2), pages 153-173 .
---
Janet Fast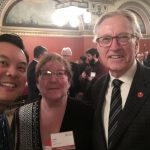 debunks myths about older workers and technology: Being older not the main reason some Canadian workers struggle with technology. Our study shows it's more about income, education, and opportunity.
Janet Fast and Ron Beleno meet with Senator Art Eggleton, host of the AGE-WELL NCE, Canada's technology and aging network's day on Parliament Hill, May 3, 2018. Janet Fast co-leads workpackage 2 on understanding caregivers needs and Ron Beleno is a caregiver and collaborator on our AGE-WELL projects.
---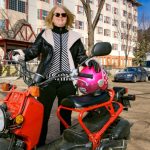 Megan Strickfaden was recognized for her dedication to meaningful design with a 2019 Community Scholar Award as part of the University of Alberta Community Connections Awards on May 13, 2019. Megan has spent more than 3 decades looking at how small design details can make a big difference in the lives of people with physical and mental disAbilities. Her most recent research focuses on older adults living with dementia and how smart design can enhance their quality of life.
---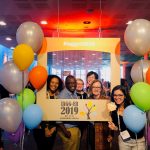 Norah Keating led the 2019 GSIA Master Class on Portraying Old Age and Ageing to Counteract Ageism at the IAGG European Regional Congress in Gothenberg Sweden May 22-26, 2019. The Master Class attracted PhD students and Post-Doctoral Fellows interested in learning how knowledge based on gerontological and geriatric research can challenge age stereotypes, misconceptions and ageism. Participants learned from senior international scholars how ageing research in general, and their own research in particular, contributes to varying portrayals of ageing and older adults.
Research on Aging, Policies, and Practice (RAPP) is committed to making a meaningful difference in the lives of older adults and their families by bridging research, policies, and practice. Drawing on Human Ecology Theory, we consider the environments in which people live their lives, including family, work, community, and policy contexts. We focus on:
care and support of older adults and adults with chronic illness or disAbilities,
health, social, employment, and financial consequences experienced by family/friend caregivers,
older adults' contributions and social inclusion, and
age-friendly environments and creating liveable spaces that enhance older persons' well-being through design.
Located within the Department of Human Ecology at the University of Alberta, the research centre is led by Dr. Janet Fast and Dr. Norah Keating. Our team collaborates with researchers at other universities and partners with government and community organizations in the conduct of our research, providing an enriching milieu for graduate student education. We are one of a few International Association on Gerontology and Geriatrics (IAGG) Collaborating Centres.