Award winning students!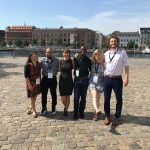 Andrew Magnaye, a doctoral student and graduate research assistant, received awards from Mitacs Globalink, World Universities Network (WUN) Research Mobility fund and AGE-WELL NCE ACCESS to his international doctoral exchange at Sheffield University in the UK to enhance his understanding of migration and care. He also got the opportunity to attend the Transforming Care conference in Copenhagen.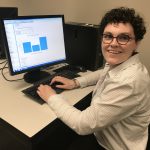 Jamie MacDonald, a third year Human Ecology student, received a Roger S. Smith Undergraduate Award to work with RAPP team members on a summer research project. Jamie examined young carers in Canada, individuals aged 15-24 years old who are caring for grandparents, parents, siblings and close friends with chronic health conditions, physical or mental disabilities, or aging-related needs. She will apply skills learned to her graduate program which she starts in fall 2020.
---
Current graduate students
RAPP is fortunate to attract talented graduate students interested in aging. Where possible, our graduate students  work as research assistants on projects to augment their learning with practical skill development. Our current cohort of students and their areas of interest include:
Victoria Bleeks

(PhD student) is focusing on the arts and aging

Shanika Donalds (PhD student) is focusing on older caregivers' financial well-being
Choong Kim (PhD student) is focusing on intersections of paid work and care trajectories across the life course
Charlene Knudsen (PhD student) is evaluating integrated community-based health and social care services for persons with dementia
Jon Lai (Masters student) is focusing on financial preparedness of older persons
Andrew Magnaye (PhD student) is focusing on caring beyond border: transnational family caregiving in Canada
Lara Pinchbeck (PhD student) is focusing on material culture environments for people with invisible disAbilities
---
Students say…
"I feel very privileged to be part of this team. This is a great learning experience and one that cannot be achieved through sitting in any course. Getting to know all the team members, getting familiar with their work and being exposed to the dynamics of a multidisciplinary project is certainly an extraordinary opportunity that helps me get better prepared for a future career as a researcher and an academic."
---
RAPP Alumni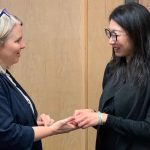 RAPP Alumni are employed in ageing-related policy units, organizations and programs for older adults as well as academia. The following graduate students completed their degree programs with RAPP in the last five years:
Matthea Libman (MSc 2019). Course-based masters degree on the guardianship of older adults. Co-supervisors: Janet Fast and Sherry Ann Chapman
Tori Ren (PhD 2019) Design for dementia. Supervisor Megan Strickfaden
Jasneet Parmar (MSc 2019) Supports for caregivers of older adults with complex needs receiving home care services. Supervisor: Norah Keating
Anna Chudyk (MSc 2018) Social participation of older persons in rural communities. Supervisor: Norah Keating
Sharon Anderson (PhD 2017). How marriages change after a stroke. Supervisor: Norah Keating Sharon's research showed that mutual appreciation is key to saving marriage after a stroke
Nicole Gaudet (MSc 2015). Dementia care by design: De Hogeweyk as a case study. Documentary films and written report. Supervisors: Megan Strickfaden and Janet Fast.
Teresa Lawrence (MSc 2015). Social return on investment: The current Alberta Seniors context. Report to Alberta Seniors. Supervisor: Janet Fast
Drew Turner (MSc 2015). Making senior centre activities more men-friendly: An environmental scan of Canadian senior centre programming. Report to the Seniors Association of Greater Edmonton (SAGE). Supervisor: Janet Fast