RAPP is committed to making a meaningful difference in the lives of older adults and their families by bridging research, policies and practice. Using primary and secondary data and applying various research methodologies, we develop relevant and meaningful outcomes through an integrated research process with stakeholders. We aim to advance our conceptual understanding, generate knowledge, integrate findings across disciplines, and translate research to policy and practice.
We are a proven leader in research on:
care and support of older adults and adults with chronic illness or disAbilities
social, employment, financial and health consequences family/friend caregivers experience towards developing a sustainable care 'system'
social inclusion
age-friendly communities and designed environments that enhance well-being.
RAPP collaborated with Carers Canada to set the theme for the 2018 National Carers Day – #CareConnections. In celebration of National Carers Day, RAPP was involved in several knowledge mobilization activities: an online symposium on Technology That Cares organized by HUDDOL; co-creation of educational materials with Carers Canada on the importance of health and social connections; an infographic and research brief on Designing Assistive Technology that Cares; an article on Technology's impact 'mixed' for unpaid caregivers; and two videos co-created with caregivers, for caregivers on the importance of getting connected sooner rather than later in their care journeys – We Are All Caregivers and #FindYourRon.
Current research projects
Understanding Caregivers' Needs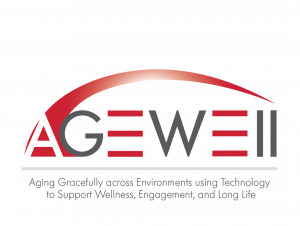 With funding from AGE-WELL, Canada's technology and aging network, we are:
deepening our understanding of the health, social and financial consequences family/friend caregivers experience
assessing the potential for Assistive Technologies (AT) to meet family/friend caregivers' needs, including compiling and evaluating existing AT products and services for family/friend caregivers (precedent-based analysis)
understanding the Information and Communication Technology (digital literacy) skills of older workers and family/friend caregivers. Here's what we learned about ICT literacy and the role of assistive technology in helping older workers
conducting a feasibility study to collect evidence about employers' and their carer-employees' experiences with and beliefs about how ATs can help them integrate, manage or balance paid work and care work roles. Here's what we learned about Connecting Working Caregivers Project Summary
contributing to the development of Huddol, the first cross-disease, cross-platform, social health network that aims to help family and friend caregivers connect with each other and health care professionals.
mobilizing knowledge by co-creating with older adults several illustrated short films that reflect a common problem older persons may experience and designed things as potential solutions.
---
Sustainable Care: Connecting People and Systems
With funding from the UK Economic and Social Research Council and in collaboration with the Sustainable Care team led by Professor Sue Yeandle at Sheffield University, we are:
conducting a policy scan of carer leave policies in Canada
building capacity among the next generation of international scholars
---

Transitions and Impact on Later Life (TRAILL)
With funding from the Kule Institute for Advanced Study, over the past three years (2016-2019) we:
conceptualized and examined empirically family care trajectories or patterns across the life course.
tested the capacity of Canadian data to understand how family care trajectories across the life course affect older adults' health, wealth and happiness.
Here is what we learned about life course trajectories of family care and about the five different patterns of family care across the life course among older Canadians when we look beyond "snapshots" to "lifetimes" of family care.